Is Google Kicking Your Ass Again?
When it comes to Google they have their own agenda, which is to serve themselves and their masters. In the beginning it looked like it was great.  When you typed in keywords for a small business or keyword, you got an exact match domain.
This might have been a big website or a small internet marketer or business owners website, talking about the exact subject you are looking for.
Move forward a few years and you type in a keyword all you get is directories, sites like Ebay Amazon, newspapers and large classified ad websites or directories like yell or something similar.
Most times the questions you asked are completely different to the information that you actually receive.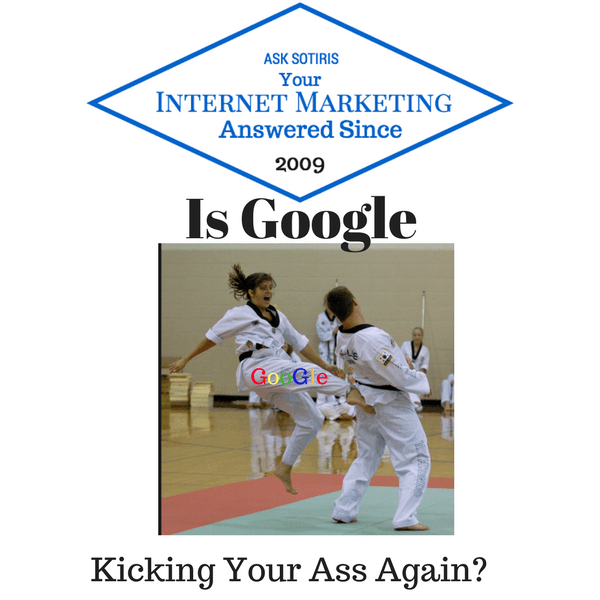 I spoke to a friend of mine recently who's website has once again been hit by Google again.  His ranking has once again gone down the toilet.  These companies do not play fair when it comes to online business, and the corporations that pay out the biggest advertising budgets always float to the top of the search  just like the cream..   In spite of whether they are relevant or not.
But this is not the only problem with relying on Google for your income, your daily bread.
I saw some silly clueless woman, promoting a You Tuber course, this woman runs a traditional business but is thick as a plank, and hangs around a click of dimwits.  Who praise her and tell her how clever she is ..  lol
The fact is You Tube which is now owned by Google of course, does not want you to use it's free traffic to make yourself 10,s or 100's of thousands of dollars.   They just want your advertising revenue or your free content, so that they can increase their advertising revenue.
The one great thing about You Tube ( I have to give credit where credit is due)  the search engine on You Tube still works the way the Google Search Engine did originally.
So if you type in an exact match keyword you will often find content that is actually relevant most of the time.  Unlike with their search engine.
The problem with building a business on You Tube is they delete your accounts often without any reason, and when you question it you often receive a rude reply that does not answer your question.
For example don't start up another You Tube Account again lol.. Even though this is true there are still idiots promoting courses how to make a zillion dollars with You Tube.  Without showing you all the pitfalls and how to partially protect yourself from them. If you don't own your content, which you don't when it's hosted on You Tube 10 years content can be deleted by A You Tube employee having a bad day.
Without giving you any reason whatsoever, if this sounds to You like something you would base your business on, then you maybe have a lot to learn too.  After 12 years of marketing on the Internet I know the dangers and pitfalls of social media.
After having one You Tube account with 350 Videos Deleted and a  $2000 a month income wiped out for no reason.
Having a Twitter account with over 60,000 Followers deleted for 5 years
After seeing countless business associates have multiple You Tube accounts wiped out for no specific reason.
After seeing one of my team members with over 1000 You Tube Videos get his You Tube Account Deleted for no reason.
Even the biggest Natural Health ~You Tube Channel Got Deleted last week once again with no good reason.  They are at the moment taking legal proceedings against You Tube, would you blame them after having their business wiped out for no reason.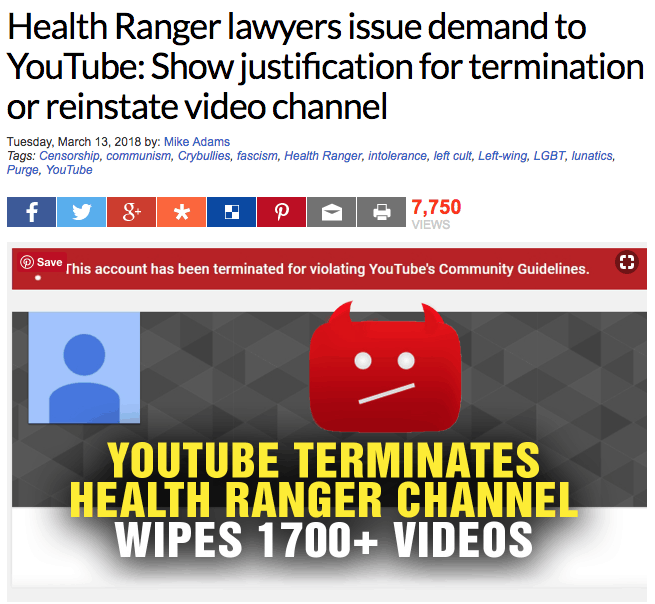 Health Ranger lawyers issue demand to YouTube: Show justification for termination or reinstate video channel
I am not trying to be a doom and gloomer but just pointing out the facts. So that you know if you want to start your own business online you need your own hosting, your own blog or website.  And not to rely on any one of the big giants for traffic.
I suggest you use multiple traffic strategies, not just rely on SEO or a You Tube, Twitter or A Facebook account.
In fact I recommend as well as the main social media channels you also create back up ones as well.
Here are a list of a few backup social media sites I recommend
Facebook Alternative 1   Click Here
Facebook Alternative 2  Click Here
Facebook Alternative 3   Click Here
You Tube Alternative 1   Click Here
You Tube Alternative 2   Click Here
You Tube Alternative 3   Click Here
You Tube Alternative 4   Click Here
Twitter Alternative 1      Click Here
Twitter Alternative 2     Click Here
Twitter Alternative 3     Click Here
Twitter Alternative 4     Click Here
Twitter Alternative 5     Click Here
One of the biggest financial challenges I see people with after they make their 1st $1 online, is having only one income stream and it ending, or relying on only one source of traffic and then that coming to an end or getting banned.
My suggestion is first to create your own blog or website, or get someone to do it for you.
Start building a List of targeted email subscribers with an autoresponder
Buy  a good software that increases your optin conversion rates
Buy video hosting that does not rely on You Tube (That way your content is safe)
Buy a good shopping cart that allows you to sell your own products or services or to create your own affiliate programs easily.  So that other people can sell your stuff for you.
Find a mentor that will show you how to plug it all together.
That way you will be prepared so that you won't get your ass kicked  by Google or any of the other Social Media Platforms again.
Please note that everything stated in the article above is my own personal opinion based on things that I have seen throughout my online marketing career 🙂 And not stated as a fact.
Is Google Kicking Your Ass Again?
(Visited 145 times, 1 visits today)