Interview With Dr. Manahel Thabet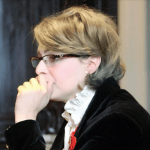 Today I will Interviewing Dr Manahel Thabet, and asking her some questions about her company Smart Tips Consultants.Com
1 Hi Dr Manahel When did your company first start ?
My company started in 2008 as a start up consultancy business specialized in financial engineering.
2 What value does your business provide to your customers, that makes it stand out from other businesses?
We work tirelessly 24/07 until the task is completed. We don't just stick to a 9-5 timescale. We create a team and work very closely with individuals and groups, and companies who are our clients.
3 Who would be your ideal client and how could you help them?
We prefer clients with a global, regional and local vision. Since we are based both in The Gulf and UK with many international affiliates, we love to cooperate with clients who wish to make an impact on the world stage. Our global outreach is the unique selling point which we bring to such clients.
4 Do you have a company mission statement?  If so what is it?
Yes, your vision is our mission. Also we believe that The Sky is not the limit and there is no need to think outside the box because there is no box at all.
5 What are your growth and development plans for your business in the future?
We plan to expand into The Americas and China where we have enthusiastic potential partners. We also plan to expand to different areas of business like the organizational growth through global best practices. We have partnered with international companies to open chain of centers in The Mind enhancement aspects like neurofeedback, strategic thinking and memory trainings.
6 How do you progress from a few people in a room with a vision to an organisation with hundreds of customers and substantial revenue being generated.
Hard work, resilience , focus and enthusiastic spirit. We work like a family and we support each other and we have a collective experience of more than 70 years plus in our senior staff.
7 I noticed from your website you have a few companies that you are associated with. What is your relationship to them and what are they about?
It's a mutual interest and partnership that  bond us together. We carefully select who to partner with as long as we share same values and ethical practices.
8 If there is one thing your clients or customers will remember your business for what might that be?
They will remember us in their growth. We are specialized to turn around losses into revenue and failure into success.
9 What do you think is the future for Cryptocurrencies?
It's possible that the existing cryptos are not going to make the grade…however I believe that there will be a startling major breakthrough in the future. The World is changing rapidly and the means we make financial transactions will change too including currencies
 10 If you had to start your business all over again, would you do anything differently? I am in a very exciting place with inspirational contacts such as Professor Michael Crawford, Director of the Institute of Brain Chemistry and Human Nutrition at London's Imperial College. Also, Professor Tony Buzan, the inventor of Mind Mapping. If I had to start again…I would do the same!
Thank you Dr Manahel Thabet from  manahelthabet.com     for the interview today, have you anything you would like to say to our readers?
Yes I would you to visit my website www.smarttipsconsultants.com and learn about my business and how we can help you.
(Visited 350 times, 1 visits today)