Symposium Greek Restaurant Newtownards
Article 1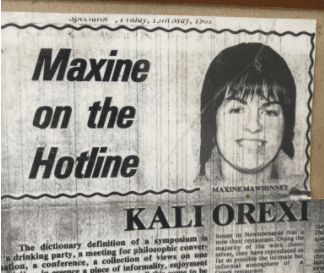 KALI OREXI – By Maxine Mawhinny
The definition of a Symposium is "a drinking party, a meeting for philosophic conversation, a conference, a collection of views on one topic" – In essence a place for informality, enjoyment, and self-indulgence. Now how does this all come to be in Newtownards
Humming a quick Nana Moussaka number, I made my way to the Greek Symposium Restaurant at 29B Frances street on Monday and threw myself at the mercy of Sotiris Bassakaropoulos and his culinary skills.
Having admitted complete ignorance of Greek cookery I was presented with a plate laden with a selection of starters. Accompanied by Pitta bread . I sampled taramosalata with great relish and discovered that my rural palate was tasting caviar spread ( I always knew I was destined for greater things): Melitzanosalata (Aubergine Salad) Skordalia (garlic sauce), Dolmadakia (Vine leaves stuffed with rice and herbs) and Tzatziki (yogurt cucumber garlic and herbs).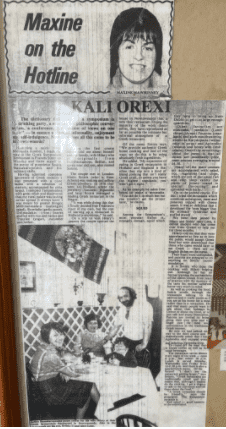 During the first course, Sotiris told me about himself and his family, his wife Hilary who is originally from Ballyhackamore, Belfast and his 7-year-old son also named Sotiris.
The couple met in London where (Sotiris who is from Athens) was making and selling Greek Jewellery. In 1976 they went to Holland where the jewellery business expanded and later Sotiris managed a leading Greek Restaurant in the Hague (Called Lambros).
It was while I was doing this that I finally decided I wanted a place of my own, but the cost of starting up a restaurant in Holland is enormous, he said on a trip to visit Hillary's parents the couple spotted the house in Newtownards that is now their restaurant. 
Doing the majority of the work themselves, they have reproduced as far as possible the intimate but informal atmosphere of a Greek restaurant.
Of the menu, Sotiris says "We provide authentic Greek home cooking and one of the ways we do this is by using absolutely fresh ingredients."
He added "my experience of eating in Greek restaurants in Holland and England is often they slip into a kind of bland cooking that isn't really Greek at all. 
So unless you have the highest standards you won't get it right."
As an example he takes 4 hours to make a moussaka. "You can do it in much less but you wouldn't get the proper taste, " He claims.
Squid
Among the Symposiums most popular dishes is strangely enough Squid which they have to bring up from Dublin to get it in large enough quantity's
Other favourites are Moussaka, paedakia (Lamb chops) Arnaki fournou (roast lamb) and such mouthwatering sweets as karydopasta( walnut cake in syrup) and Aphrodite (walnuts in honey and fresh cream).
One of the nicest things about the menu is that all the dishes are moderately priced main courses averaging around £4.50.
Many of the courses are accompanied with salad, rice vegetables, and chips. Which are not of our usual fish and chip shop variety, but pieces of potatoes coated in special flavouring and sprinkled with herbs.
On to the second course. For this, I tried the moussaka which combines aubergines, meat, and potatoes topped with cheese sauce it was so delicious that I developed the eyes bigger than the stomach syndrome and stuffed myself. 
We were then joined by Hilary and Sotiris's niece Lena a dental student who has come over from Greece to help out for three months.
Hilary told me that they were apprehensive at first as to how the public would accept Greek food but were determined that those who came would have to eat Greek – There are no English dishes on the menu.
Their fears were unfounded and patrons are prepared to try anything on Sotiris's recommendation.
It is Sotiris who does the cooking with Hilary helping out. Although he has no formal training the authenticity of the dishes comes from years of practice with the memory of the taste his mother achieved borne very much in mind.
As well as cooking the food Sotiris strolls through the restaurant talking to his patrons and it really seems as though you are at his home for a meal rather than in a restaurant.
He said that many people want to talk about their holidays in Greece or about the food or to just talk and enjoy themselves.
Patrons are invited to bring along their own wine and to linger over the meal and conversation in the traditional Greek manner.
By now we had talked our way to the third course and shamefacedly admit that I had Aphrodite and enjoyed every last delicious fattening drop. 
…………………………………………………………………………………………………………………………….
Symposium Greek Restaurant Belfast
Smugglers Restaurant And Waters Edge Coffee Shop Carrickfergus
Pot Belly Restaurant Gilford
Acropolis Restaurant Hamilton Road Bangor
Acropolis Restaurant High Street Holywood
Belfast Telegraph Wednesday January 27th 1999
Article 1 Holywood
Food And Drink Authentic Greek Food
Eating Out 
Janet Devlin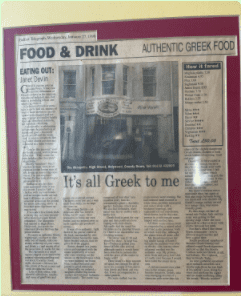 It's All Greek To Me 
Greek cuisine gets an unfair Press. It may not boast the refinement of French cookery or the intricate blending of Indian dishes, but there is something robust and satisfying about it.
Cauldrons of pasta or potatoes in garlic and oil, chunks of beef or lamb stewed into sauces spiked with oregano and nutmeg. Fragrant red mullet lightly fried and drenched in lemon are intensely satisfying.
Occasionally a celebration will prompt the production of barbecued goat – favoured guests are offered the brain. And in season, songbirds fleeing colder climates are shot and simmered in a thick tomatoes sauce.
"They are like tourists," said my Greek mama with a gleam in her eye. They come for their holidays but they don't all go home."
Shirley Valentine? yes, I was that woman. And as an argonaut on the Ionian seas of life, it was an interesting experience. I am just surprised Pauline Collins took so long to get around to it
Suffice to say, my days were numbered when it was discovered I couldn't kill a chicken with my bare hands pull an octopus inside out and beat it 40 times on a rock, or scramble around on the ground collecting olives a fruit that tastes like burned tarmac to me.
I have made a few Greek dishes in my day, so I was interested to learn that a new Greek restaurant – The Akropolis had opened in High Street, Holywood, just across the street and down a bit from the police station
To enjoy an authentic Greek experience, you have to dine with lots of friends, talk constantly at the top of your voice and drink, smoke and eat all at the same time.
It works for me.
The Akropolis is a small square shaped roomlined with painted wood panelling and red brick. 
Ceramic Greek Dolls, decorative Metaxa bottles, prints of Greek scenes and icons decorate the walls. Lots of little tables, with cheerful tablecloths, candles and vases of green bit's and pieces are scattered around.
Picture of Metaxa dolls here
The lights were low and it was more than chilly, so we kept our coats on. The owner Sotiris Bassakaropoulos Senior an Athenian who has lived in Ulster for 20 years – had warned us to bring our own booze, and   we poured away as he lit candles and produced menus.
It was all so authentic right down to the patron's table at the back, surrounded by controlled clutter behind the regulation beaded curtain, that we got a fit of the giggles.
Sotiris draped in a jaunty cravat and equipped with the innate superiority of a race who were working out the square on the hypotenuse while we were painting our bums blue, looked bemused and joined in good naturedly.
Eventually we ordered a Meghala pikilia (Big mixed starter) and kalamari tighanita (Fried Squid) the starter was composed of 4 dips taramasalata (Roe) tzatziki (Cucumber Yogurt Dip) Skordalia (garlic dip) hummus (chick pea dip).
We also had dolmades, marinated vine leaves stuffed with a herby rice. Greek food is great for veggies and they positively love coping with child diners.
Akropolis had the usual loo facilities and is disabled-friendly. There is no discernible no-smoking section.
The starter was £7.50 and plenty for three. A large basket of grilled pitta bread £3.60 also arrived.
Although surely it would have been sensible to include it with the price of the starter, to begin with? 
There wasn't a huge amount of squid but enough for all of us to try a couple of bits and it was lovely and fresh and tender. It was accompanied by a salad garnish.
We were stuffed but the main courses were coming. We had ordered lamb roasted in white wine, pastitchio (macaroni and mince steak with a bechamel topping) , and saghanaki(In my experience fried cheese, but in this case, prawns in a rich tomato sauce topped with melted feta)
All three main courses were accompanied by a mixed salad and fried garlic potatoes, both of which were fine, although the plates were all stone cold.
My friend raved over her big tender lumps of lamb, I thought the pastitchio was a bit on the dry side, but my sister informed me that was the authentic way. My prawns were fresh and juicy, but I didn't really care because I would have eaten the sauce on its own.
A debate ensued over what was in the tomatoes sauce, besides tomatoes Sotiris who was emerging as a bit of a character with more than his share of the slightly dangerous Greek charm. claimed a trade secret before whispering roasted red peppers.
Desserts – to be avoided at all costs in Greece, because they'll either break your teeth or rot'em came next.  I fell for the walnut cake (Karydopasta), which actually came in a little pot. The sponge soaked in honey it was rather nice, though I would have preferred yogurt not cream on the top.
My sisters baklava was a minuscule slice , but again at that nice stage between being too fresh and over the hill. My friends mango sorbet served in a mango skin was sensationally good.
By this stage we had all turned into Father Jack and my sister was getting to that spooky stage where she once appeared in a Kavos disco with a table between her teeth.
But that's what I like about Greek restaurants – you are allowed to get raucous and have a good time.  Sotiris produced samples of Metaxa (Greek Brandy) and offered round Greek cigarettes and told us that the bloody Corfiots were not Greeks at all but Italians.
No, I opined, they're bloody Turks. As we gathered ourselves to unleash ourselves on a nearby pub, there he was back at his patron's post doing his sums and smoking his ciggie and no doubt muttering under his breath, "Bloody tourists!"
…………………………………………………………………………………………………………………………………….
Article 2 Holywood
Enjoy A Greek Food Experience
Belfast Telegraph, Wednesday, September 9th 1998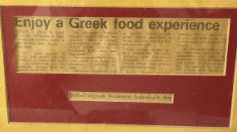 When it comes to good food the Akropolis in High Street Holywood sums it up in two little words Kali Orexi. That's good appetite in Greek. And anyone who has holidayed in Greece will need no introduction to the delicious cuisine.
That the country has to offer.
The Akropolis, Northern Ireland's Premiere Greek Restaurant offers a unique atmosphere with original Greek home cooking traditional form. using pure ingredients.
The menu on offer is extensive . with something for everyone including the kids.
There is a sumptuous range of starters, which include jumbo prawns deep fried in batter. And vine leaves stuffed with rice and herbs.
Main courses feature savoury delights like moussaka, biftekia, and Kotopou Akropolis- Supreme of chicken breast with prawns cooked in garlic sauce.
Sweet treats include baklava, Sika figs cooked in port with fresh cream and a wide range of specialised ice creams. The Akropolis invites you to bring your own wine to compliment your meal. 
The restaurant is open for lunch and dinners Tuesday to Sunday. 
This could be the year to add a more exotic flavour to your Christmas meal. 
…………………………………………………………………………………………………………………………………………..
(Visited 57 times, 1 visits today)