Blogging For Newbies- Tips For Starting Your Online Business
You have decided to take first the step to start your first online business. The only problem is there is so much to learn, you need to learn about systems, customer mindset, lead generation and last but not least how to turn your readers or prospects into money.
One of the advantages I have after blogging online for over 16 years and creating well over 1800 Blogs and websites for myself and my other clients is that.  I can spot an experienced blogger or their website/blog pretty quickly.
One of the things I notice most in the blogging /internet marketing space is there are so many inexperienced people trying to teach others to make money selling stuff which is often substandard BS.
I learned a lesson a long time ago from Robert Kiyosaki, about looking at who you are actually taking advice from.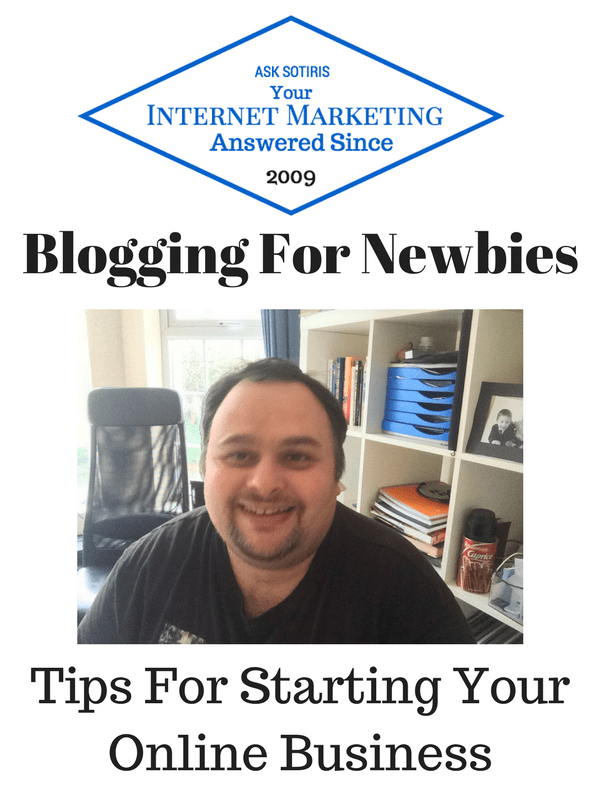 Learning from someone experienced can save you a lot of time and money over the next 5 to 10 years in your online business.   Yes if you are serious you will need to buy some stuff. kidding yourself that you will build a business that makes you tens thousands of dollars without spending money is not realistic.   As many free products and services are not good enough to run a professional online business.
There is one thing to remember you can only generate your mentors results if you start doing the things they tell you. One of the biggest things keeping out your success is trying to take short cuts, like the big red button which will pour money into your bank account for $47 one time fee (This is Total BS)
If Stevie Jones started blogging three months ago and tells you to buy Siteground through his affiliate link, so you can be successful like him it may not happen. Especially if this is who you listen to advice from.
On the other hand if a successful blogger and online marketer tells you to buy a hosting account with WA, An opt-in software, an autoresponder a shopping cart and blog daily and you miss out some or all of these steps.  It will flop your business too.
The biggest mistake I see people do is just blogging just writing like they are doing their English Homework. And expecting to make money. The thing is A 30-minute talk on this subject alone with me could be worth tens or hundreds of thousands of dollars to your business over the next few years.
The good news is when starting a blog or website there is more than one great option to do it.
Even though I don't recommend it if you are really serious about your business.
Recommended Hosting Account No 1 ……………  Click Here
Recommended Hosting Account No 2………………  Click Here
If you want to find out how I can teach you to set up your blog or website Click Here For A Free Consultation
You may also want to register for my updated 101 Blogging Tips Video Series For free
Feel Free To Also Visit My Testimonial Page To See What Other People Have To Say
Blogging For Newbies- Tips For Starting Your Online Business
(Visited 2,206 times, 1 visits today)