ThriveCart Vs LeadCart Review

Shopping Carts
It is abundantly clear to any blog or website owner that they are going to sell a product or offer a service. There may be other goals of the blog such as simply educating the public or keeping people up to date regarding some issue.
However, there will also come a time when it is part of the process to sell something to a target market. One of the things needed in order to do that is a payment processor of some kind. You do, after all, have to accept their money in some way. The more efficient and user-friendly this payment processor is, the more sales can be made.
There are a few ways to accept payment from a customer. Two methods or offerings in the area of shopping carts are herein discussed.
The first shopping cart to consider is one called ThriveCart. It is designed to make the selling of products and services easy. Mr. Josh Bartlett released ThriveCart in 2016 and continues to bring upgrades to his product.
What products work Well With ThriveCart?
If you are selling a recurring subscription product, then ThriveCart is for you. That monthly rebilling can be set up in the back office and you're off to the races. You can add your autoresponder to catch the customers on the third, fourth, or seventh go round. If it's a one-time payment product and you want to add a monthly subscription you will know your customers by sections of the customer management area of ThriveCart.
Let's say you are selling eBooks and/or digital courses. ThriveCart works as an integrated system with online learning platforms. Your checkout page can be changed and optimized to collect all the information you need from your customer. It works well with Kajabi, Thinkific, and Teachable. Just a few clicks and you're done!
Shopify is a popular product selling platform and once again, ThriveCart integrates well. You can set
up checkout pages for physical products and collect names, phone numbers, and shipping information. You can even have multiple Shopify accounts and they will all be fully integrated.
If you are an author and are self-publishing, then you may be familiar with Lulu. ThriveCart has a feature called Fulfillment by Lulu that will make your life easier.
Are you a consultant? Do you take payments from clients? Is your fee into the thousands? Do you really want to send your high powered client a Paypal or Stripe invoice or ask them to go to your site and click on a button? Not really. Set up your Paypal or Stripe with ThriveCart and your trust level goes up!
Another great feature is you can place your branding on the payment page.
ThriveCart Benefits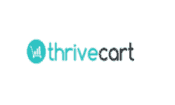 With Thrivecart you are going to have access to some high converting checkout pages. They look modern where others look like they are stuck back in 2000. Online course developers also offer to check out pages but you can't do the necessary A/B testing required to see what is working for you.
ThriveCart provides ways to split test your various pages! Many people are split testing their sales pages, but this shopping cart allows you to test your checkout pages. Bamm!
Everybody needs a bump, a bump offer that is. One sale is great, but an upsell or a bump offer put more money in your pocket while the customer already has their card out of their wallet.
Here is a typical Thrivecart Checkout Page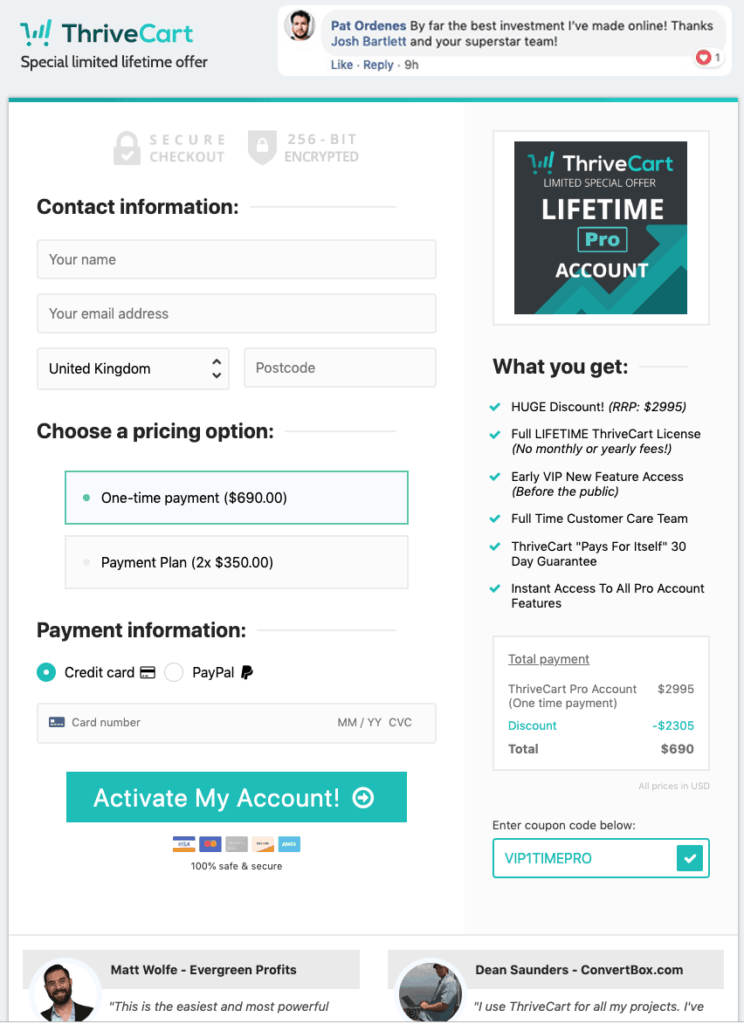 ThriveCart provides two different ways for embeddable and popup checkout carts. With the embeddable option, you get a code to paste on your site. The popup checkout cart is a button the customer clicks and the checkout cart appears.
ThriveCart integrates with
Aweber, Infusionsoft, HubSpot, ConvertKit, MailChimp, GetResponse, ActiveCampaign, Drip, and MailerLite. As mentioned before, it integrates with Thinkific, Jajabi, Zapier along with WishList Member, Teachable, MemberMouse, MemberPress, Paypal, Stripe, Apple Pay, Authorize.net, Google Pay, Kunaki, Shopify, Lulu, Demio, WebinarNinja, Vervante and is GDPR compliant.
ThriveCart is an awesome shopping cart that will collect information and money easily. It works with seventeen different currencies and you can offer a single price or multiple pricing options. You may also set it for a one-time payment, payment plans or "pay whatever" options. It allows you to set free trial periods, paid trials and auto billing. Don't forget the bump offers feature and one-click upsells.
 
In short, ThriveCart is the most flexible option available when it comes to shopping carts.
Click Here To Get A Thrivecart Lifetime License
LeadCart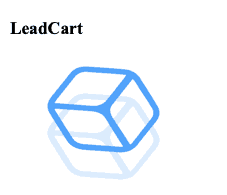 LeadCart comes right out at the beginning with a monthly or yearly option for paying. Let's see what that is and what you get for your money. Leadcart has a Pro version and a Premium option for purchase.
Here is a Leadcart typical checkout Page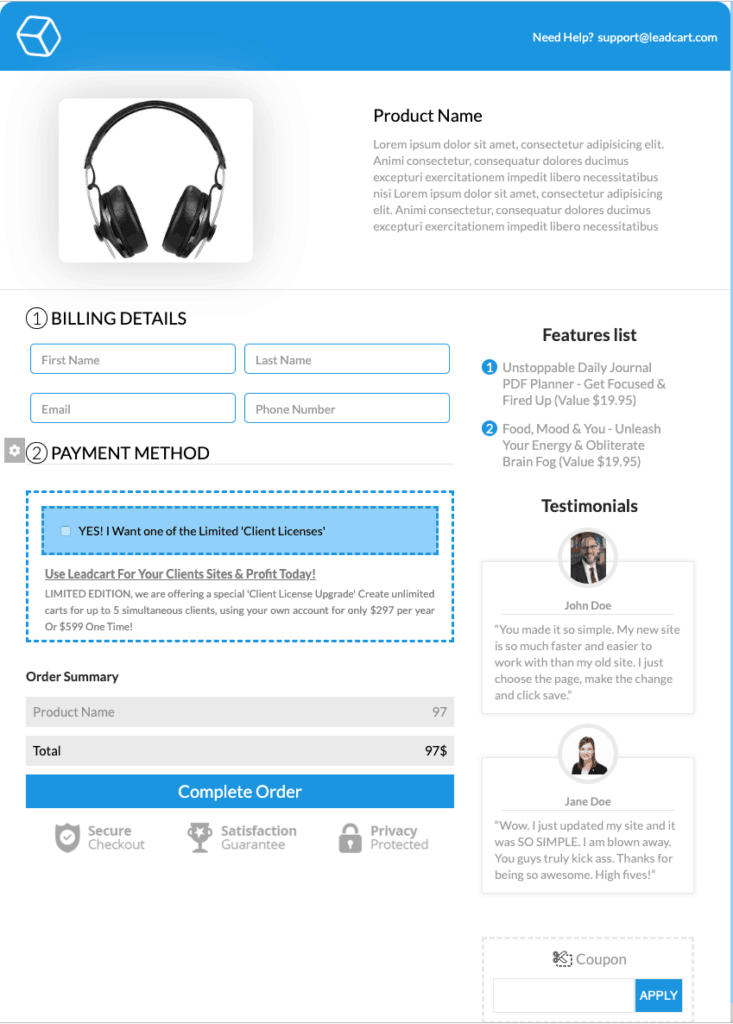 Pro Version-$99.00 per month. Pay for the whole year and you get two months for free.
This is the most popular option for most Leadcart users.
You get
checkout templates

sell unlimited products,

use their checkout pages anywhere,

built-in credit card and Paypal processors,

take one time payments, subscriptions, trials, and payment plans,

stat reports

Prospects (Cart Abandonment)

Webhooks and Zapier

1-click upsells

Unlimited Funnels

Support
Premium Version- $199.00 per month. Pay for the whole year and you get two months for free.
You get all the features of the Pro Version, but with these features added.
The Subscription Saver (Dunning)

The Affiliate Center

Email Builder & Customizations

Dedicated Training & Support
Both options include
Checkout Templates-
Build converting checkout pages.
Integrations-
Incorporate all your favorite apps and tools.
Payment Processing-
Collect payments with Stripe or PayPal.
Coupons-
Offer coupon codes.
Checkout Embed-
Take orders right from your website with our embeddable templates.
Free SSL Certificate-
SSL certificate served via HTTPS.
You can sell many different things using Leadcart. Digital products, physical goods, and services can all be marketed. Here are some of the tools offered by Leadcart.
Digital Products

Payment Plans

Multiple Currencies

One-Time & Subscriptions

Check out Template Library

Checkout Pop-up Widgets

Free & Paid Trials

Checkout Form Embed

Tax Profiles

Digital Download

Translation

VAT Compliance

Interested in having some conversion boosters. Leadcart offers them.

1-Click Upsells

Coupon Codes

Order Bumps

Subscription Saver

Cart Recovery

Pre-Filled Checkout Page

Address Auto-Complete

Retargeting & Tracking Pixels

Product Delivery options include

Offline Delivery

Manual Delivery

Digital Product Delivery

Zapier Delivery

Webhooks Delivery

Manage your affiliate program with

Instant & Delayed Commissions

Lifetime Commissions

Lead /CPA Tracking

Real-Time Affiliate Contests

Automated Bonus Delivery

Link Tracking

Simple Affiliate Payout

Built-in Marketing Materials

So, ThriveCart or LeadCart. It's up to you. You are the one who knows your needs and the work you are trying to do on your website. What you have here is an unbiased listing of each offering and a complete showing of the options available.

Should you have any questions related to which option is for you, book a Free 30-minute digital marketing consultation  We are here to help.
Please note that since we created this post Leadcart has shut down
Click here To Get A Lifetime License To Thrivecart
ThriveCart Vs LeadCart Review
(Visited 467 times, 1 visits today)