Two Lifetime Products That Will Increase Your Income Online
If you have a website or blog you will probably have realised that there are a few ongoing products and or services that you need for your business.
When it comes to your online business it is not a good idea to be cheap, as many free or low cost products are inferior and skimping on what you need will increase your workload and keep your bank account empty or lose you money in the long term.
I myself pay quite a few ongoing payments to keep my online business running smoothly and efficiently, I pay monthly for my autoresponder, for 6 of my hosting accounts and have a monthly payment for webinar software and and click rotator software which I also use. Not forgetting $400 every two years for a optin and sales page building software.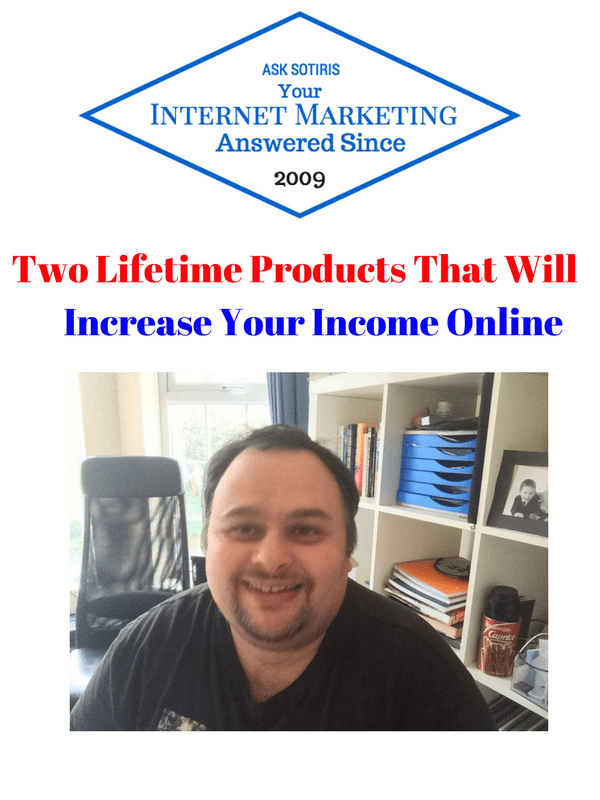 Up until recently I also paid $129 per month for a shopping cart, and $17 per month for a pop up Call to action software..
Unfortunately I did not join the plan to use this pop up software as for use on over 100 websites the fee would have been way past extortionate, the $17 per month only covered it's use on three of my websites.
Since I started online marketing about twelve years ago I have always had a shopping cart or a pop up software on my websites. In fact my shopping cart alone set me back well over 12k over that time. If I did a conservative estimate the new shopping cart which manages affiliate programs that I was using would cost me $199 per month plus another $17 a month for a pop up software that's $216 per month. Over the next ten years this would cost me $29,920 over the next ten years. Lets just say $30,000 for good measure.
The fact is that without these bits of software I would probably lose 50 times as many sales as that over that period of time, so not having either of them is also not an option for me. And if you are serious about making money online, it won't be an option for you either.
The good news is right now there is an offer on which could save you a total of $29,200 dollars on these fees but it is very limited and will end soon. And the shopping cart I am talking about will become a monthly paid product after that time, probably costing around $100 per month.
If you have ever listened to ever me about anything this is probably one of the best pieces of advice I may give you.
Click the links Below And Buy These Two Products While They Are Still Available As A One Off Lifetime Payment
These two software are going to be around for a long time but the one time limited offer one off licenses will not so click the buttons below to get access today while you still can.
Here are 6 benefits you will get when you buy the shopping cart 
The option to sell digital or physical products to your customers or other businesses from your website or blog easily.
Being able to take either daily,weekly,monthly or annual recurring payments.
Being able to accept payments via credit card,apple pay,paypal and Authorize.Net
Be able to build a buyers list, They can automatically go on to your buyers list as soon as they make a purchase on autopilot.
Be able to easily run your own affiliate program and have other people sell your products and services and get paid commissions automatically when you choose.
Be able to add one click upsells into your shopping cart that convert to 40% of your buyers.
Here are 6 things you may continue to do if you don't
Put ugly paypal buttons and checkouts on your page that convert 40% less and lose you sales and buyers as some countries can not make paypal payments
Not build a list of buyers automatically, this is one of your most valuable things in your business. A list of buyers who have already bought from you.
See all the cart abandonment notices as your shopping cart provider contains long complicated checkout pages which overwhelm your buyers and lose you money and sales.
Continue to pay a monthly fee for your shopping cart or service provider, or they may also take a percentage of your sales. Over 10 years this could add up to over $20,000 of your money wasted.
Sell your products and services yourself and lose out on the leverage of having other people marketing your products and services via your affiliate program.
It may be difficult or in some cases nearly impossible to setup recurring credit card,apple pay,paypal and authorize.net payments. Or to setup a $1 trial offers with ease and simplicity without any coding knowledge.
Here are 6 benefits you will get from the CTA Optin Software 
The ability to ask a few questions and automatically add subscribers onto a certain autoresponder list depending on their answers.
The ability to have a Call To Action Button that sends your visitors directly to an offer or page that you want.
The ability to have a video appear with an optin box when your visitors click your CTA bar.
The ability to send relevant messages to your visitors via a convertbar depending on which website they came from.
Being able to add a timer to add more scarcity to your offers and get people to take action faster.
Getting lots more subscribers to your autoresponder via your CTA optin boxes.
Here are 6 things you will miss without this software
1. Being able to redirect your visitors to a website of your choice.
2. Increase subscribers to your email list by up to 40%
3. Having ugly optin forms using traditional autoresponder tools.
4. Not be able to find out what your readers are really interested in by giving them multiple choice questions. And losing targeted sales and subscribers in the process.
5. No attractive unobtrusive bars to get your customers attention and or send them a message.
6. No ability to offer special coupon discount offers to get more sales on your websites.
Two Lifetime Products That Will Increase Your Income Online
(Visited 224 times, 1 visits today)