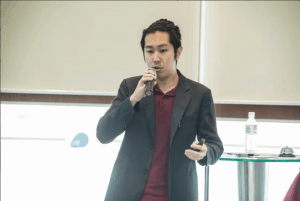 Benjamin founded Higher Identity in late 2010. The company built EMERGE App (emergeapp.net) with a vision to put affordable software in the hands of all businesses selling physical products (distribution, wholesale, trading & e-commerce model). The visions' to revolutionize small business are ran through technology.
Benjamin also founded Drooling Apparel Asia Pacific Pte. Ltd. (previously called Drooling Closet) during his student days. The company produces customized t-shirts with a factory in Malaysia. It grew into a strong local brand, serving major companies, school and government agencies in Singapore. Benjamin now serves as a non-executive director at Drooling Apparel, where the company remains profitable.
Here are some questions I asked Benjamin for our interview.
When did you first get started in this business Benjamin? I didn't set out to start a cloud-based software company from the start. I didn't join hackathons, startup competitions or anything like that to find the Next Big Thing in software.

EMERGE App

actually was born from a desperate need to get my inventory in order when I ran a custom t-shirt printing business back in school. Back in those younger and naive days I was itching to run a business and make some money. Since I had no budget for software, I used spreadsheets to manage my business. But in no time I had multiple copies of my spreadsheets saved locally and all over the cloud.It worked OK in the beginning but then I started to forget to invoice my customers. Orders were coming in faster than we could fulfil them. T-shirts in all sorts of designs, colours and sizes were being overstocked. My money was increasingly being tied up in stock. It wasn't a good time as I spent hours solving issues in operations rather than selling or following-up with repeat customers.I then looked at some inventory management solutions out there but they were too expensive, too complicated or didn't have the features that we needed yesterday. So I decided to build one instead. Along the way we thought that other small and medium-sized businesses dealing in inventory must surely face the same problems as us?

So we spun out our in-house inventory management solution and called it EMERGE App. We wanted other businesses to

emerge from whatever they were doing in the past to manage their inventories and embrace a new way of doing things online.


Who inspired or inspires you the most?

Other entrepreneurs for sure! We often read about the successes of others but failures are hardly reported. For every success there must have been a ton of failures that slipped out of sight. So I've always been inspired that those people who created stuff out of nothing and found an exit strategy!If I had to name one, then it would be my mentor who co-founded a helpdesk chat platform while still in university and sold it years later to a major player in the support space. Her story of strict fiscal responsibility (she paid herself a few hundred dollars a month!) and vision inspired me a lot. Maintaining a constant cash flow is critical to any business. And to have her advice and support while growing EMERGE App is priceless.
Who are your ideal clients or customers?



Our ideal and typical profile is a small and medium-sized business with 1-10 employees with brick-and-mortar operations and an eye on expanding online or to other sales channels. These are typical retailers, wholesalers and distributors of real, physical products.

Some examples include mineral rock hobbyists, organic foodstuffs, homemade soap and custom jewellery. We don't have any specific geographic area as we're spread out over 40 countries on 5 continents! But our biggest markets are USA, Europe and Australia.We also understand there's a learning curve and adjustment needed to adopt technology and online channels for sales. So we made EMERGE App user-friendly, good looking and easy to use without the need to attending "training" classes. We also include a B2B e-commerce platform at no extra charge for those wanting to try B2B sales with their best customers.
What differentiates your business from your competitors?

Given our humble beginnings as an in-house solution for our small t-shirt business, we decided to focus on small and medium-sized businesses around the world. Dealing with stock is a global problem no matter what country you're in or what language you speak.

Since we initially designed the software for ourselves, we wanted the user interface to be cool-looking and easy to use. Users should be able to login and pick up skills along the way when they discover little features here and there.And in a true fashion for our small and medium-sized business customers, we offer a free account for businesses with modest needs. If you've seen our website, our paid plans are extremely competitive and offer much value for money. Many users said they signed up with us because they were put off by high prices and complicated plans from other competing solutions.We also run a tight and small team around South-East Asia. Sales, marketing, engineering and support are spread over Singapore, Vietnam and India. I've just added an office in China. This makes us extremely responsive to users no matter their time zone. I'm always happy to consider feature requests from users and many of them contact me directly through chat apps and speak their mind or deliver praises!
What best describes the benefits of someone who uses your business or services?

Number one, we're pretty competitive price and — I dare say it — pretty cheap! We only charge $29.95 per user per month and there are discounts for longer subscription plans. As entrepreneurs ourselves, we understand the need to conserve cash in the beginning. There's no point shelling out thousands for a "software implementation" by "consultants". We want to cut out all that crap! The only people making money at this stage is the software vendor. Sadly, your business might sink or swim under the weight of early expenses.

Number two, I'm also helping

small businesses

to organise their inventory and make their operations run more efficiently. Nobody wants to be sitting around entering data into a laptop when the sun is shining outside or when the beach beckons! This gives my users more time to spend on the things that truly matter in their business, such as business development and catching up with their best customers.Finally, we run a pretty tight team. I have an open door policy and I'm available to anyone via chat, email or any messaging app that you care for. Some prospects criticise my software while others heap praises on it. Also, we roll out a new version of EMERGE App every three weeks, no kidding! With this, we implement feature requests and bug fixes asked for by our users. This makes us very responsive to our customers.
Thank you Benjamin for answering these questions for us today wishing you lots of continued success in your business and any other future ventures.
Here is some more information about the Business
What is EMERGE App: A complete system for growing business dealing with traditional offline wholesale, distribution & online e-commerce sales. EMERGE App full suite of features manages your entire operation from multi-channel sales to purchasing, product, inventory & simple accounting management.
Website: https://emergeapp.net
About us: https://emergeapp.net/about-us/
(Visited 139 times, 1 visits today)