Getting Stuff Done – Why It's Better Late Than Never
Okay, I have a quick confession to make, when I started the 30 Day Blogging Challenge I was pretty sure I would get all the posts done on time, what's only 1 blog post a day right?  Should be simple enough.
The thing is although when I started doing the 30-day blogging challenge the purpose was about creating more content for my business, getting more subscribers, and getting more customers for my business.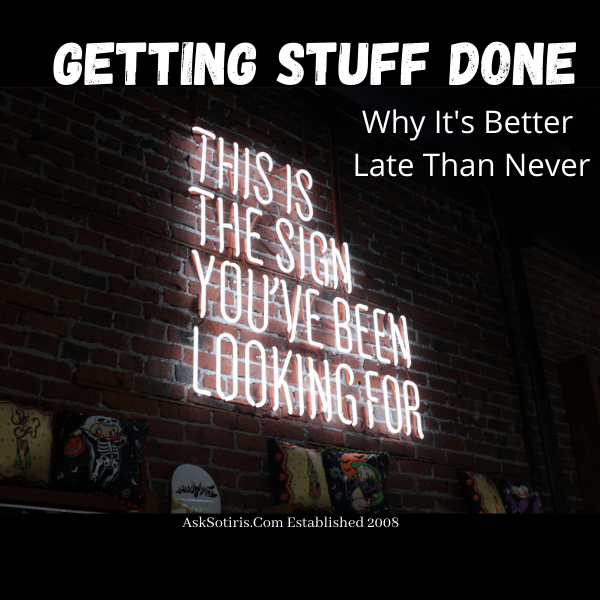 I wasn't really expecting after only 3 or 4 days to get inundated with brand new customers and work from the 30 Day Blogging Challenge but that is exactly what happened.
Instead of spending a lot of my day creating content for the blogging challenge I was spending my days creating new websites and connecting new tools and showing my new clients how to create their own content.
So yes right now I am a few days behind in my own content creation for the blogging challenge, even though I have actually got 1 blog post made every day this month on my blog, they were not the ones I had planned for the 30-day blogging challenge.
When I started this blogging challenge I 100% intended to get all my posts done in time, thanks to the blogging challenge and the thousands of dollars created by the new clients and business it brought in. I got behind and could not get all the blog posts done on time every day as I was working on client's businesses with them.  I am however 1000% sure that all 30 of these posts will get done and shared on my list etc as planned even if it is not on schedule.
When I started this blogging challenge lots of people showed an interest in it but few people actually bothered to do more than a few posts if they did any, this I am sure has resulted in lots of losses to their possible future income online.
The bottom line is if you want to be successful online when you set a goal to do something get it done, if you are a few days early or a few days late, even weeks or months it doesn't matter just get it done.  The results will speak for themselves.
It doesn't matter if you where building Rome, or doing anything else it starts with the first step, and as long as you continue until you finish what you started you will create results so what are you waiting for start getting things done.
Successful people do not permanently bury their head in the sand, they might do it for a short period as none of us are perfect.  Successful people are the ones who start doing something and actually finish it and create a result.
So if you are ready to start also making a difference in your own online business, then feel free to join the 30-day blogging challenge today, lets see what you can do to build your business using the power of the internet starting today.
Click Here To Join The 30 Day Blogging Challenge 
If you want to be successful in your life and business here are some great tips from Jim Rohn to help get you started
This Was Day 22 Of The 30 DAY BLOGGING CHALLENGE 
Getting Stuff Done – Why It's Better Late Than Never
(Visited 149 times, 1 visits today)