8 Instagram Tricks And Tips for More Likes and Followers
Want to make more of your Instagram account and get more likes and followers for your business. These expert tips are there to help you do just this, so read on.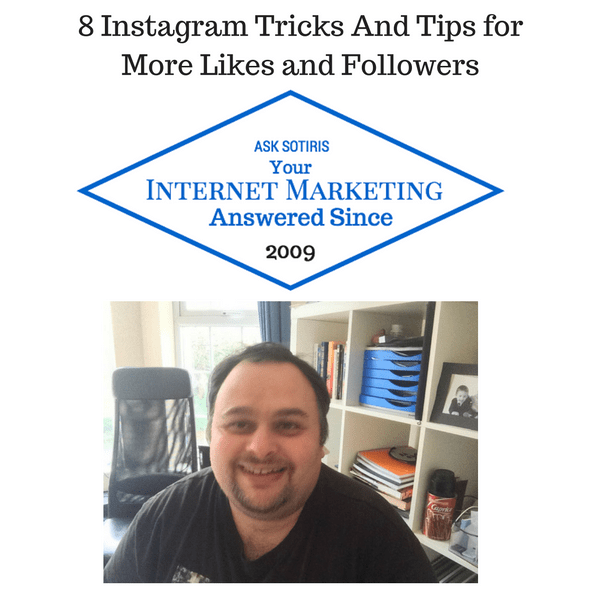 Get More Likes By Using Instagram Filters
Use Instagram filters if you want to obtain more likes.  Although the #nofilter hashtag is quite trendy, there is a new study out that analyzed Instagram and Flickr photos that shows what can be done for your photos when you add a filter to them.    
According to the study, when a filter is added to a photo, it is 45% more likely to receive comments and 21% more likely to get viewed.  This may be partly due to more interesting photos being shared when a filter is used.  However, the data can't be argued with.
Using The Most Effective Instagram Filters
Five filters on Instagram as well as editing options where analyzed by the study to determine which ones got the most comments and likes.
The most comments typically come from using a warm filter.  When the exposure tool is used more views are received which increases exposure results.  Not all filters increase your comments and likes.  Age effects led to lower comments and saturation effects resulted in lower views. 
More followers lead to more followers as they tend to make your image look more popular. Tools such as Vibbi allow you to buy more Instagram views and followers and thus can create this effect.
Take Good Square Photos
All the photos shared on Instagram are squares. Therefore, you want to take photos that look their best in square format.  A majority of smartphone cameras come with the option of taking square photos, or you can use the Instagram app for taking photos.
Emil Pakarklis from iPhone Photograph School has some useful tips for taking better looking square photos.  It isn't necessary to memorize every tip in order to take better looking photos, but understanding what the principles are behind them is a great starting point.  The following are a couple of those tips.
Shoot in Landscape and then Crop

Watch for Diagonal Lines

Use A Grid for Smarter Rule of Thirds

Use Symmetry

Fill In The Entire Photo

Center Your Subject
If you incorporate the tips when taking square photos it will help to improve the quality of your pics.
Photos That Have Faces In Them Receive More Likes
A Georgia Tech study discovered that Instagram photos that have faces in them receive more comments and likes than those photos that do not have faces.  Specifically, when a photo has a face included in it, it is 32% more likely that it will receive a comment and 38% more likely that it will receive a like compared to photos of a meal or landscape. 
It isn't always necessary for your photos to be front and center selfies. Just experiment with putting yourself at a grater distance in your photos.
Instagram Photo Essential Accessories
It isn't necessary for you to choose between showing a cool scene off ad appearing in the photo.  Use your Apple Watch or a timer and buy an iPhone tripod to place yourself in your photos. 
SafeSolvent, who is an Instagram user, suggests that you purchase a GorillaPod for your iPhone. That will allow you to attach your iPhone to a ledge, fence, tree or other object.  Once you have your phone in place, can can then set a time and get into the photo so that it is about more than simply another cool place that you happened to visit.
In addition, SafeSolvent shoots using Camera+ which has a 30-second timer to give himself plenty of time to get himself into his photos. 
Tags Individuals Who Are In Your Instagram Photos
Instagram allows you to tag friends who are in your photos to ensure they see the photos.  It is much better to do that than to tag them inside the comments, and you are able to do this prior to sharing the photo.
When you are at the Share to page, just tap on the Tag People button and then tap your friend's face.  Search by Instagram user name or real name and then top on their name in order to tag them.  If you need to, you can fine-tune the position or drag it into another area of the photo.
Send Private Instagram Photos
You are also able to send private or direct Instagram photos to friends or groups of friends rather than to all of your followers.  Take your photos and edit them as you usually would do. 
On Share to screen just tap at the top on Direct.  That will switch it from Followers and will show you your Instagram friends list. Scroll through and select the friends you want to send to or to do a search tap on the magnifying glass.  You can choose one friend or many.
Do A Better Job At Using Instagram Hashtags
There are two Instagram tips that you can use when preparing to use hashtags.  First of all, you can try using the new Instagram emoji hashtags.  That's an easy way of getting your photos in front of additional Instagram users as well as a playful way of providing your photos with some emotion.  All you need to do is type # and then use the emoji keyboard on your Android or iPhone to make the emoji hashtag that you want.    
Another emoji Instagram technique that can be used is posting a photo with only a simple description that will work for Facebook and other places for sharing photos in addition to Instagram and then placing the hashtag within your photo's first comment.
(Visited 124 times, 1 visits today)