12 Reasons To Start Your Own Cookery Blog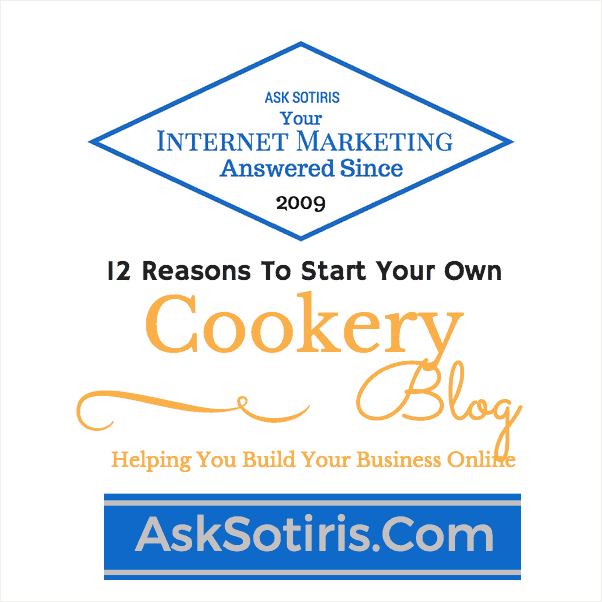 1. Because you like/love cooking and want to share your passion/recipes with the rest of the world.
2. So that recipes that you make can get passed down through future generations my dad taught me lots of his recipes but the ones he didn't teach me died with him. That's another great reason to write/ document or video things on your blog.
3. So that you can inspire people from all around the world to learn new recipes and cook dishes they might not have cooked if they had not come across your cookery blog or website.
4. Starting a cookery blog is also a great way to promote your business if you own a restaurant or a food company that sells food.  People can get to know you and your cookery and many of them will probably check out your business and buy from you too.
6. Setting up your own cookery blog is also a great way to slowly build up lots of content to use in your own book. If you post a new recipe on your blog every day in 100 Days you will have enough recipes to put in your own Book or E-Book.
7. Save money on taxes buildings and overheads having a restaurant or takeaway is a great business, but unfortunately, you spend most of your time working to pay property taxes, staff, equipment, more taxes, utility companies, and VAT.  With an online business, you save on some of these expenses as you do not require business premises or a property to run an online business. And in many cases, you do not need a lot of staff either or can get employees much cheaper on the internet.
8. The overheads are much lower when setting up an online cookery blog than it would be setting up a traditional business the only thing you should really need to have is a domain($12)  Hosting around $120 A Year and an Autoresponder around $19 a month.  Yes, there are also other things which you could or would use but these are the essentials.
9. Worldwide exposure-It doesn't matter where in the world you live with a blog or website you can get worldwide exposure to your blog/website and another way you can increase your exposure, even more, is to translate your posts into different languages too. You can get tour stuff translated easily and cheaply by using services like
10. Having your own blog or website is your home on the Internet where people can come to find out more about who you are, what your business is and exactly what you do and what services products you have available to sell.
11.Get paid for advertising many companies and or brands will pay you to promote their products if you own a successful blog or brand. So this opens up more income opportunities for you as well.
12. Unlike a traditional business where you have to stand all day doing the cooking in order to get paid with a blog or website you can have people from all over the world in different timezones buying your products or services even while you are asleep or on holiday. Or doing something else that you want to do, yes you do not have to be a slave to your business 24/7 like with many other business models, and what could be better than that.
Click Here Order A Ready Made Blog Or Website Today
12 Reasons To Start Your Own Cookery Blog
(Visited 111 times, 1 visits today)