The Death Of Expensive Funnel Builders
After watching this crazy ridiculous advert on Facebook which completely misleads people about websites I did a few rants about it on my blog but recently they made another similar BS ad and it has been following me around on Facebook.
Click Here To Get Access For $25
Unfortunately what they say in the video about websites being dead is a load of balls and that's why I cannot get over anyone putting such a stupid ad that misleads people. Fortunately, I decided to use their ad model, to actually tell the truth about a product instead of telling a load of BS to people, and so we now have our Post The Death Of Expensive FunnelBuilders.
The truth is for a long time people have been hit with some creative ads some of them true and some complete trash to advertise a product priced at $97 to $297 per month.
The thing is paying $97 to $297 per month can be the difference between a new online business owner having the money to buy the tools and products that they need and not being able to afford too.
Regardless of what these crazy ads may say A WordPress blog post will outrank a funnel builder page 90% of the time.
Now when it comes to conversions a funnel builder will convert better than a blog or website, the thing is you still need the traffic that your blog or website creates to be sent to your sales funnel or capture page if you want to actually have anyone to convert unless you want to rely on Facebook, Twitter, YouTube, Google ETC for paid traffic.
I can tell you relying on the big social networks for paid advertising is like skating on thin ice, you may be lucky and everything goes okay but the chances are the ice can break beneath you at any time, leaving you back on your butt or even worse swimming in a frozen lake.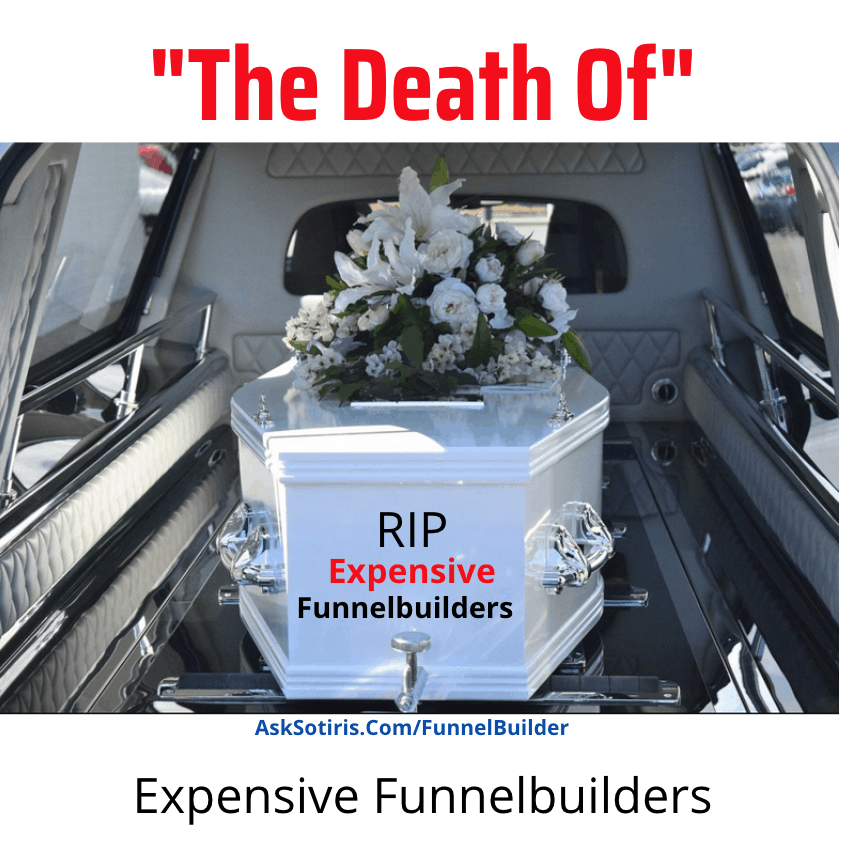 Unlike other people who lie that websites are dead, I can tell you that a good blog or website when utilised with SEO and social media can drive loads of traffic to your business and funnels.
The benefits of a funnel are that they only offer one option so they will convert at a higher rate than a blog or website, when you combine the traffic that your blog or website generates with a good funnel builder you will get more subscribers and sales.
Some of the benefits of our $25 Funnelbuilder includes
Membership Site Creation

Taking payments on your website or blog

A booking system to schedule bookings with your clients

A CRM (Customer Relationship Manager) to keep your clients details and notes when communicating with your clients.

Capture Page Creation

Webinar page creation

Thank you page creations

Website pages that look like a normal blog or website.
When you look at many people starting an online business we will save you $72 to $272 per month over other funnelbuilders this could make the difference between your business being successful or not being successful.
We payout 80% commissions on products at the pricing of
$25 Product Funnelbuilder = $20 commissions Click Here
$125 Digital Marketing Training Site $100 commissions Click Here
$500 Financial Education Product  $400 commissions Click Here
In fact, for every sale, we make we donate money to feed children.
So start making Expensive funnels a thing of the past by supporting our movement, designed by the people for the people.
Could this be the Death Of Expensive Funnel Builders? Click Below To See Why.
Click Here To Get Access Today For Only $25
This was Day 23 Of The 30 Day Blogging Challenge
The Death Of Expensive Funnel Builders
(Visited 92 times, 1 visits today)