5 Reasons To Rotate Your Links
If you are new to online marketing you may not even know what this concept means, hopefully at the end of this post it will give you a good idea.  Alternatively if you already market products or services online this post may give you an idea that you might have missed out on otherwise.
Press Play Below To Listen To The Audio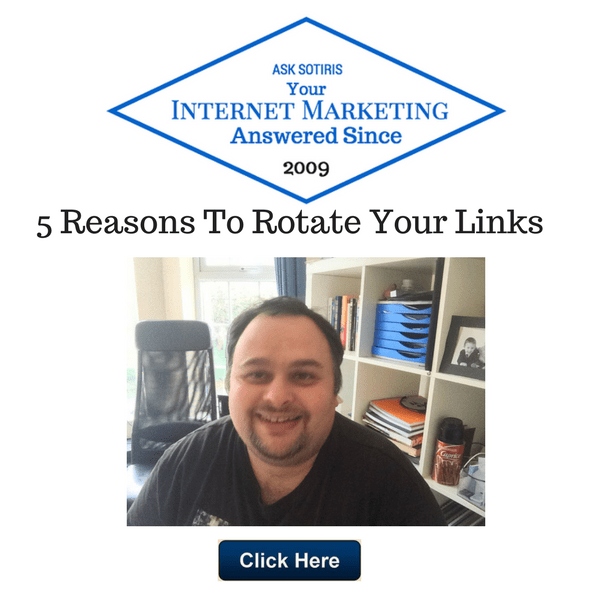 Too many choices leads to indecision. Have you ever arrived at a page and there has been multiple options.  When faced with 20 options many people will do nothing as confusion sets in they freeze, or worse still they go away to think about it. By using link rotation you can still advertise 20 things but do it one link at a time.  🙂
When testing capture pages the same thing goes as you will want to see which page works best. But once again multiple choices of links are not the answer. Rotate your capture pages so when someone clicks your link it redirects to one of the pages at a time.   Once you see which capture pages have the best conversion rate you can rid of the ones that do not work well and get more optins (Number of people who give you their email or name and email).
Why not rotate your Social Media Links instead of giving people the choice of following you on 10 social networks which they probably won't do, start rotating your networks and add a Follow us on social media link or button to the end of your posts or emails(Which Rotates To All Your Different Social Networks)
Add a Work With Me Page once again don't list all your business opportunities in one place, rotate your opportunity links. Lots of people will want to find out more about what you do or how to work or partner up with you in a business. A work or partner with me link or button is ideal when hooked up to a rotator.  As your business opportunities change or pages/websites change you just update to the the latest links in your rotator.  If you have hundreds of websites/blogs like I do this one tip alone could save you weeks worth of work updating the links on all your websites. So I highly recommend this one for that very reason.   I learned this the hard way when I had a You Tube and Twitter Account Deleted and all my emails and websites had follow me on Twitter Add Me On You Tube links that went to a suspended or banned account.
If you are like me and use a lot of different tools for your Internet Business and recommend them to help your clients and make a bit of money in the process, listing them all together will make it less likely to buy anything so why not put your recommended tools or resources on a rotator too.   That way when someone clicks on best online marketing tools instead of a huge overwhelming list they see just one cool tool at a time that you use to run your online business.
You are probably wondering now about where to get a rotator well I have been down this road before and looked for a Free Rotator in fact I spent hours going through them and discovered the free ones are all crap for one reason or another and are filled with ads and adware and IFrames with ads for the rotator and other banner ads.
So the bad news is that for a decent one you need to pay something, as they are not free if they work properly. The good news is there is a 14 day Free Trial
Click Here To Access The 14 Day Free Trial
I hope you found this article/podcast useful if you did feel free to share it using the Social Share Buttons Below This Post 🙂
5 Reasons To Rotate Your Links
(Visited 168 times, 1 visits today)