Winners Walk The Walk And Losers Talk The Talk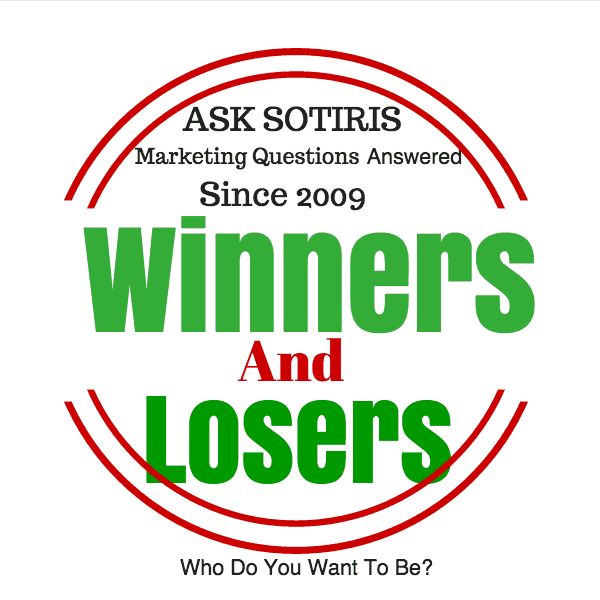 How do you tell between a winner and a loser?  All you need to do is watch them over a long period of time just observe.
Most losers like to talk about what they are going to do.First  they talk about it that day and then by the next day they are going out to the bar or coffee shop to meet up with their friends to gossip about other people who they envy.  Or about how hard life is?   Winners focus on their reasons for getting things done their dreams their aspirations and after they have completed their daily goals or targets.  They can chill out whatever way they want.
The thing is with meeting people online it is normally not too difficult to tell the ones who are going to succeed or the ones who are going to fail.  Whiners and complainers who lack direction and are looking for a quick easy fix dissapear long before the going gets tough..    Or they may pay their membership for a year and do nothing in their business and then say this isn't working for me.
The truth is if you are destined to be a winner you need to make a decision and that decision will be something that needs to have a stronger urge than spending all day in the coffee shop at the beach or talking about what you want. Or about what you are going to do.  The truth is nobody wants or cares about what you are going to do or about what you are planning to do.
People care about what you are actually doing so if you are doing nothing and telling people things they need to do then you are wasting your breath.
On the other hand if you take a daily consistent positive action to create a business, make more money and or generate more customers in your business people will see what you are doing and follow your direction.  There is nothing that annoys me more than people who say they want more money or a better lifestyle but yet they sit around every night in a bar with their friends.  Or they sit all day in a coffee shop gossiping about other people irrelevant to their business goals or so called dreams.
In my eyes if you are dreaming about it you will do it as it is one of the most important things that you think about.  If you want or would like it or even worse if you have no idea what you want outta life. Then the chances are you will never get it.  What would you say?
Ask yourself a question do you talk a good talk?  Or are you walking the walk out of the last 7 days how many of them did you spend building a business that can or will help you live the lifestyle you dream of?  Was it 6 or 7 was it one or two or did you do absolutely zilch?
You choose whether you want to end up being a winner or a loser one person I know well says when it is a sunny day I am not going to work today because I want to go out in the sun.  Personally for me that is them making excuses because when you are making an abundant income from your business you can fly directly to the sun anytime. Yes you can take control of your life or you can do nothing and lie on the beach or sit in a bar or coffee shop while your life and job control you.
THE CHOICE IS 100% YOURS MY FRIEND
EVERY TIME MONEY COMES IN YOU CAN DECIDE WHETHER TO INVEST IN YOUR BUSINESS THAT CREATES MORE MONEY FOR YOU.
OR WHETHER TO GO OUT AND BUY YOURSELF A CAPPUCINO OR A T-SHIRT..
LEAVE OUT ALL OF THE EXCUSES WHO DO YOU WANNA BE?
 Someone who talks the talk

Or

Someone who walks the walk 
You can chose whether to win in the game of Success or not. 
Winners Walk The Walk And Losers Talk The Talk
(Visited 237 times, 1 visits today)