What's The Difference Between a Blogging Challenge And A Facebook Live Challenge
A few years ago I did a 100 Day Facebook Live Challenge it was to do one video for a day for 100 days, of course, me not being the most patient type of person I decided I wanted to do the video quicker and decided to do two Facebook Live videos daily for 50 days for my challenge.  I have to admit unlike creating content for your blog after 100 Facebook Live Videos you start getting pretty bored LOL… In fact, I would say some of your video viewers would too, of course, there are very many extremely knowledgeable experts in their field who people could sit and listen to for hours on end.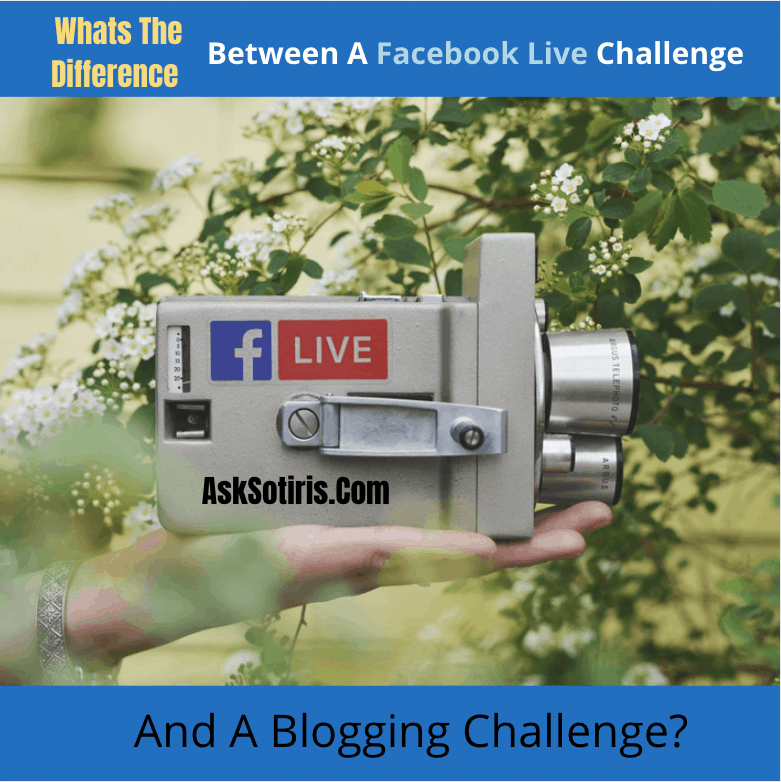 I would say though that although you improve as the time goes on with a lot of practice, some people could be hard to listen to after a few Live Facebook Videos add to it the internet interruptions from time to time or your signal getting interrupted they do not always go according to plan. These though are not my real issues with Facebook live videos I have a few others
The first one is with a Facebook Live you are at the mercy of the Facebook algorithm which changes regularly.

Facebook keeps changing the rules.

If Facebook doesn't like what you say they block you from lives for a short time or permanently, I got blocked yesterday from Facebook live for a week for posting a truthful comment on a Facebook post.

You don't own the content well you do but they can ghost it or make it disappear at any time.

You don't own the hosting Facebook does so again it goes back to you have no control over the content you produced, the same goes with Youtube.

Facebook shows your live videos on your feed for a very short period of time after that it gets buried in your timeline so without a lot of promotion no one will find or see it easily after a few days unless the video has gone viral.

Facebook hates links on your stuff as they want to keep you there all day so they can use you as a cash cow for their advertisers, so you have to market your stuff often in the comments or by giving URLs to visit in the video and hope and pray someone listens to the URL or better still remembers it and types it in.  I have often seen Url's placed in Facebook Video comments buried so you cannot actually see the link without clicking on the comments multiple times. 
Face to Face videos especially live ones when people are nervous or something is going on, or when something happens unexpectedly in the background, do not convert as well as screen share or PowerPoint videos unless you are an amazing speaker. Even if they are great for your audience to get to know you, they do not always show you in your best light (If you know what I am saying)
Okay, enough about Facebook Live let's talk about the advantages or disadvantages of a blogging challenge.
When you do a blog on your own paid hosting it is your own content and you own it as long as you continue to pay the hosting company.
With your own blog, you can monetize the pages or build a database with your own large subcriber list by giving away Free Gifts or information in exchange for your reader's name and emails. 
If your blog post is good and has relevant information it can rank on the search engines and drive traffic to your website regularly for years to come. 

If you share your images from your blog on Pinterest it can also rank and be found on Pinterest for years to come. 

If you put in either a live or recorded Youtube video it will help your video rank better on Youtube and with a correctly placed link bring traffic back to your blog or website via Google Search engine, Youtube Search Engine or related content or playlists for years to come 24/ hours while you sleep.

If you don't trust Youtube with your video hosting you can use a paid Amazon S3 video hosting service that costs pennies per month unless you have huge amounts of traffic or other alternative video platforms like Brighteon.com or Bitchute.com instead.

A disadvantage of posting your blog on Facebook is they show it to fewer people as they don't want people leaving Facebook VS a Facebook Live video but you can make up for this by posting your Blog post in large Facebook groups and multiple places, including your Facebook profile and pages.
As your blog and content increase and you continue to market it, more stuff will rank bringing in more traffic into your website which will get you more subscribers and sales on your blog if you have plugged it into your own product funnels or some affiliate stuff or paid advertising. 
I have a friend who I was talking to just the other day he made a blog a few years ago he has not touched it now for a year and a half, it still brings him in $500 or $600 per month that's $6000 or $7000 per year with no work that would never happen with a Facebook Live unless you continued doing them regularly. 
It takes a little bit of work may be a day or two to learn how to post on WordPress, but it is no comparison to trying to build your business on someone else's Platform(Land) IE Facebook. Would you build your business in your neighbors garden? to save buying or renting a premises?  Well, then why are you doing all your advertising on Facebook? 
If you want to try creating a simple blog on WordPress for free Click Here
If you want me to take you through the steps to create your own online business one on one over zoom and help you set it up then click the button below to order my business blog setup package
Click Here To Get Your Business Blog Setup 
This Was Day 15 Of My 30 Day Blogging Challenge
Click Here To Join The 30 Day Blogging Challenge
.
What's The Difference Between a Blogging Challenge And A Facebook Live Challenge
(Visited 105 times, 1 visits today)