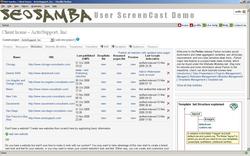 San Francisco, CA (PRWEB) March 19, 2009
In advance of their upcoming appearance at Search Engine Strategies New York, SEO Samba introduces the latest version of its leading organic search management platform. The updated SEO Samba platform integrates a wider array of Google Tools with these key offerings:

Google Analytics tab that displays website usage data:
SEO Samba automatically adds Google analytics code to your websites, and email marketing communication enabling marketers to access Clickstream data

Google Webmaster tools that helps Google better index your site
SEO Samba makes SEO efforts fully transparent by creating and uploading verification files as well as XML sitemaps for both Web and news to Google Webmaster tools automatically. SEO Samba also checks robots.txt files for errors, and make the Google 404 widget available within the integrated CMS.

Google Website Optimizer to test landing pages & improve conversions
SEO Samba adds GWO experiments code automatically to any of your websites without having to switch between screens, or involve your IT department. It's easy and quick to add/delete experiments and convenient to monitor landing page experiment's progress as one can access GWO reports right from their SEO Samba account.
SEO Samba, unveiled its SEO management automation platform at Search Engine Strategies Chicago in December, 2008 to positive feedback from bloggers and corporate SEOs. SEO Samba provides a framework to execute SEO best practices consistently over time and also integrates valuable time saving automation routines to perfect on-site and off-site optimization cost effectively. SEO Samba will be exhibiting at SES New York at booth # 130.
"We have now made it possible to use your Google login account to link your existing account with SEO Samba," said Michel Leconte, founder & CEO. "Once logged into SEO Samba, you will notice three new Google colored tabs. Each tab enables you to make use of Google tools, including Google Website Optimizer for testing A/B variant of landing pages and Google Webmaster Tools to access search engine early indexation, ranking and analysis feedback."
"Our latest platform also displays the status of your websites as they are indexed by Google right from your dashboard view" said Leconte.
About SEO Samba

SEO Samba is the sole organic search management platform where websites are built to maximize performances with search engines. The SEO Samba platform is also designed to support a network of websites that addresses multiple markets, regions and countries in a scalable and manageable way. The SEO Samba platform is well-suited for affiliates/franchisers and local SEOs. SEO Samba executes search engine optimization best practices automatically to streamline the marketing copy creation process, and optimize & broadcast your information through an ever increasing number of Internet marketing channels. For more information about SEO Samba, visit www.seosamba.com or contact info@seosamba.com, and in the US:

+1 (8774509894) or in Europe at     +(33) 675637635
Editors and bloggers for more information contact:

Byron Gordon 415.341.0053

Byron.gordon(at)seo-pr.com
Corporate SEOs and agencies for a free Samba trial contact:

Christophe Clavel, North American Sales Director 1.877.450.9894 clavel(at)seosamba.com
###
Find More Seo Internet Marketing Press Releases
(Visited 25 times, 1 visits today)