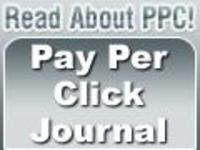 Boston, MA (PRWEB) December 12, 2007
Brick Marketing, an experienced and prominent full-service Internet marketing company, is excited to announce the launch of a Pay Per Click Journal. This blog, which is written and maintained by the experts at Brick Marketing, is an interesting source of information for people and businesses interested in learning more about pay per click and the effect it can have on the popularity of a website.
Nick Stamoulis, known for being a pay per click guru as well as his official titles of founder and CEO of Brick Marketing, had this to say about the new blog, "This blog will allow people who are involved in e-commerce and other online businesses to learn more about pay per click, as well as how it can help a website become more popular. The Pay Per Click Journal is a learning resource that adapts to the changing world of pay per click marketing, and encourages the exchange of ideas about online marketing."
The subject matter covered in the Pay Per Click Journal have immense potential to become a powerful informative resource. These categories touch upon a variety of topics important to the world of online marketing. The blog categories that are discussed in the Pay Per Click Journal include:


    Keyword Match Types
    PPC Bidding Strategies
    PPC Keyword Research
    PPC Launch
    PPC Management
There are many more categories that are being considered and expanded upon all the time on this blog. Some of the topics that have been expanded upon already include:
    PPC Bidding Strategies
    PPC Keyword Research
    PPC Management
More topics about pay per click and how it can help online businesses grow will be discussed and eventually, there will be blog posts that discuss other aspects of online marketing. Brick Marketing emphasizes that pay per click advertising is one of the ethical ways that many businesses participating in online marketing, and that this blog will reflect the legal business principles that he believes in.
For more information please visit:

www.PayPerClickJournal.com and also visit the sister blog, www.SearchEngineOptimizationJournal.com
Media Contact:

Nick Stamoulis

Brick Marketing

781-223-3651

nick @ brickmarketing.com
# # #
Find More Pay Per Click Internet Marketing Press Releases
(Visited 20 times, 1 visits today)