Book Like A Boss VS Bookafy Review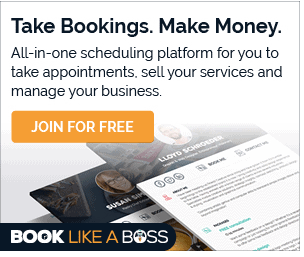 Finding a great booking platform can help you save a lot of time and money. It's important to figure out how you can get more clients for your company, and a booking service such as Bookafy or Book Like A Boss can really make a huge difference. But which one out of these two should you use? They both sound great, but obviously they can't offer the ultimate service, so here are some things you need to take into consideration.
Pricing
The two platforms have a pretty similar price point. Book Like A Boss prices starts at  $9 per month and goes up to $29 per month, Bookafy is $7 per month. The thing to keep in mind is that these are subscriptions, so you will most likely end up paying for one of these on a yearly basis, which is pretty good anyway. The prices start low, anything under $10 at this quality is amazing, so they both win here.
Support system
One of the main things you have to look for when it comes to booking software is definitely supported. There are lots of things that can sometimes go wrong. That's why you want to handle all of it as quickly and as professionally as possible. With that in mind, it's important to note that Book Like A Boss is only web-based, whereas Bookafy also has an Android app. Regarding the support system itself, you have online and phone support, as well as some FAQs for both. Bookafy has tutorials on their website, Book Like A Boss has published some (and other users created tutorials too) on YouTube. Even if you are a newcomer, it's easy to get started and that's what really matters when you work with this type of platform.
What features can you expect?
Book Like A Boss has plenty of things that we liked quite a bit. They have a dedicated activity dashboard, something that Bookafy doesn't have, unfortunately. The activity dashboard comes in handy because it's dependable, convenient and you can find all the relevant information in there.
We also like the fact that it has automation. You can access automatic notifications and scheduling as needed. And to make things better, they also have availability management and an availability indicator. They also added professional booking management systems to make the experience more professional and comprehensive for the user. That's always great and it certainly pushes the boundaries when it comes to value.
If you want, you can also use Book Like A Boss to add custom fields forms and you can even have your own custom landing pages. Bookafy lacks that, but it does have things like Calendar Sync with Google, as well as class scheduling, a client portal, and custom fields.
Book Like A Boss also included some interesting functions in the form of electronic payments, discount management, email invitations, and reminders, as well as email notifications. They also have labeling, meeting management, and other comprehensive solutions that work a lot better than you might imagine.
Another thing where Book Like A Boss stands out and Bookafy doesn't is definitely the alert and integration system. Bookafy only has third party integration, SMS integration, and reminders, but Book Like A Boss adds to that eCommerce management, video support, and text editing. This is very helpful and it has the potential to really take things to the next level.
Integrations with other services
When you use a booking system like these two, you want it to integrate with as many third parties as possible, and it's nice to see that. Bookafy has integration with Authorize.net, Constant Contact, Contactually, Go To Meeting, HatchBuck, MailChimp, Weebly, Wix, WordPress, and noCRM.io.
On the other hand, Book Like A Boss will give you support for other services. Facebook, Google Analytics, and Google Calendar, Mailchimp, Microsoft Outlook, Remo, Stripe, Zapier, and Zoom are all supported. This is an interesting aspect because all of these are great platforms with amazing features you want to use again and again. The integration is split quite well, but at the end of the day, it might not matter for everyone. Then again, it can end up with some challenges like that.
Who is the audience for these services?
Book Like A Boss is a service more suitable for small businesses, freelancers, and service providers. Bookafy is mostly for home services, sales organizations, wellness centers, education, and so on. An important thing to keep in mind is the fact that both of them have a free trial. That means you can test out everything before you commit to any of the services. The prices are low anyway, but it makes sense to give them a shot before you buy, which can come in handy in the long run.
An important thing to keep in mind is that Book Like A Boss also has medical scheduling features, event booking features, and appointment reminder features. Bookafy lacks that, and it's easy to see why the price is a bit lower.
In addition, Book Like A Boss is suitable for a vast range of user categories. It works great for yoga studios, tutoring, sales coaching, plumbing sites, pet sitting, payment processing, moving, maid services, landscaping, handymen, fitness, dance studios, and many others. Book Like A Boss is more suitable for stuff like events, legal calendars, and so on. It's important to understand the scope of your project as that can bring in challenges in one form or the other.
Conclusion
As a whole, both these services are very impressive and they get the job done pretty well. Book Like A Boss stands out a bit more because it has support for way more services and it covers tasks that many freelancers and contractors really need. They have a broader audience and the quality you receive is downright amazing. Just consider giving it a try for yourself and you will find that it's worth it. It all comes down to the features you need, but overall Book Like A Boss offers the more comprehensive, and it's well worth the extra $$ per month!
(Visited 75 times, 1 visits today)