ANNOUNCEMENT – LAUNCH OF ELECTRA
The Ammbrtech Group is pleased to announce the public launch of the first product in its Blockchain financial suite, Electra. Electra is fully integrated with the AmmbrTech Group's Blockchain based payments rail, SendX, which will debut in August 2018.
The first customer for Electra is RXcess Mobile Sdn Bhd ("RXcess Mobile") in Malaysia, which utilizes Electra to empower its SIM and pre-paid airtime agent distribution network to accurately track and report their sales and payment acceptance activities, including cash collection.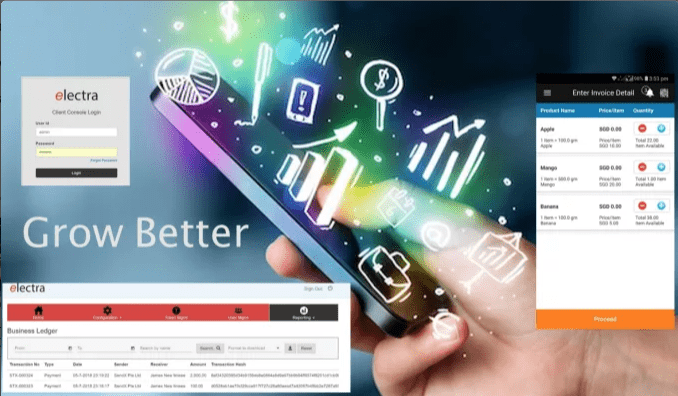 Electra is a backoffice management solution and a global transaction network for small and micro businesses. Businesses who subscribe to Electra can make and receive both cash and digital payments, and capture these transactions on live and immutable ledgers, providing real-time transparency and auditability of their business dealings.
The costs of payment acceptance and remittances are exceptionally attractive, as well as the speed of clearance and settlement. Many small businesses globally are constrained by their lack of access to non-cash payment forms, and Electra provides them a vital and affordable entry point.
Another particularly important functionality Electra gives the small business is the simplification of tax and other compliance reporting and filings.
Electra clients can also create and management their own agent networks, as is being done by RXcess Mobile, empowering their agents with the same payment, accounting and reporting functionalities. Businesses often scale through agent networks, but this requires digitization in order to be efficient. Electra is a low-cost platform to facilitate this process, benefitting a business and its agents.
Electra improves business distribution and efficiency, while reducing business management overheads, risk and fraudulent behavior considerably. After the completion of the RXcess Mobile installation, Electra is being launched globally. Users can place pre-orders on the Electra website. 
Electra can be ordered from https://www.electranetwork.io
About AmmbrTech Group
AmmbrTech Group develops distributed and decentralized solutions and ecosystems for bridging gaps in communication, knowledge and financial services. Our products include the Blackbird Hardware Wallet, and the Ammbr Mesh Router.
www.ammbrtech.com
About SendX International
SendX International is a part of the Ammbrtech Group and the commercially licensed global distributor of the SendX suite of products, which includes Electra.
www.sendxintl.uk
About RXcess Mobile
RXcess Mobile is a Malaysian based MVNO that operates a GSM network and sells a range of pre- and post-paid cellular plans.
(Visited 146 times, 1 visits today)