6 Factors Why Your Facebook Ads Do Not Convert & How To Fix Them
Have you ever wondered why aren't your ads getting the impressions that you want? After months and weeks of strategizing, creating the perfect copy, and all the hard work you've put through, your campaign is ready to take off. You hit publish, and that's where the results come in.
But despite your Facebook advertising efforts, you're not generating the results that you want. What happened? How do you cope? While there are so much confusion and frustration in your part, the purpose of this post is for you to understand that even by making a few critical tweaks, you're bound to see results.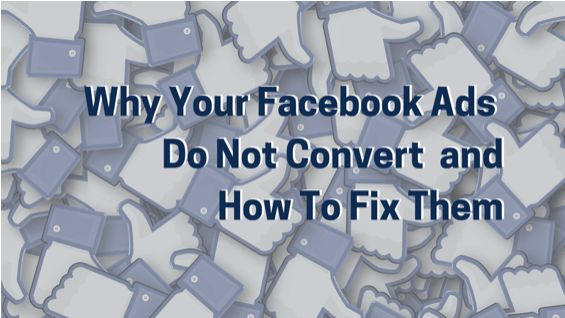 Here are the six crucial factors why your Facebook ads are not converting, and what you can do to fix them:
Wrong objective selection
When you first launch a new campaign on Facebook, the first thing that you should consider is choosing the right campaign objective. The purpose of selecting one is to let Facebook know what your goals with your budget are. What are you aiming for? Is it more leads, conversions, website traffic, or page likes?
Choosing an objective beforehand have a significant impact on your ad types, as well as targeting and optimization options. Remember that you can only select one goal per campaign. Choosing the right or wrong goal can make a significant impact. So, pick the right objective for your campaign, the one that serves your purpose the most.
Broad audience targeting
One of the main reasons why digital marketers and business owners fail with Facebook ad targeting is that the audience they target is too general. Luckily, Facebook allows you to create campaigns that specifically target your custom audience.
Remember, there are approximately 1.09 billion people who use Facebook each day, and you have to be specific about who you target your audience.
One of the main benefits of Facebook Ads is that gives you the power to target your ads, showing it to a  more precise set of audience that's interested in your brand, products, and services. These people are curious, and there's a high probability that they'll click on your specified landing page. That's the reason why there has been a massive growth in advertisers between 2015 to 2016 alone.
On the flipside, if your audience is too broad and poorly targeted, your ads will be shown to people who don't care about your brand. As a result, this leads to a terrible site conversion. That's why targeting the right set of people is so important.
After all, you might get everything right, but if you're targeting off base, you'll fail badly. Nothing else will work. So take the time to create your ideal buyer persona and utilize Facebook's Audience Insights, making it convenient for you to research your perfect customer.
Inconsistent testing of ads
It's true that ad testing can be a time-consuming process. However, split testing is now the standard, and there's now a Dynamic Creative option that's available to test out various combinations of all your creative assets.
So, there's no excuse that you shouldn't be testing and stopping all processes that aren't working for you anymore. For instance, you might love to post a particular picture, but your prospects are turned off by it. Testing lets you know what's working and what isn't.
You can try testing out different images and copy, but it doesn't have to end there. A/B audience testing is crucial as it lets you test out various bidding options, scheduling times, and your CTAs.
Your ads are not visually-appealing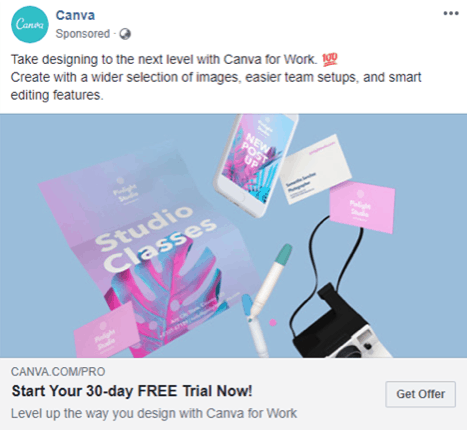 Source: Canva
Do you know that the brain can process images in just 13 milliseconds? No wonder that Facebook and Instagram are so popular with visual content.
Generally, Facebook has a rule that there shouldn't be more than 20 percent of text on your images if you're going for paid promotions. After all, you don't want your newsfeed to look so much like you simply advertising ads.
Instead, it's vital to use visually appealing, and high-quality images in your paid promotions so that you can increase your engagement rates and click-throughs. Produce well-designed advertisements to stand-out and to get your ads the attention that it deserves.
Canva, a graphic design tool website, create Facebook ads that instantly catch people's attention with its fun and colorful design. When you think about the Facebook feed, it's usually packed with images. Using a colorful Facebook ad design helps to get your ad noticed.
6 Factors Why Your Facebook Ads Do Not Convert & How To Fix Them
(Visited 74 times, 1 visits today)