10 Ways To Optimise Your  Profile Page
When it comes to your profile page on any website having a well optimised profile will make the difference between getting more clients or not getting them.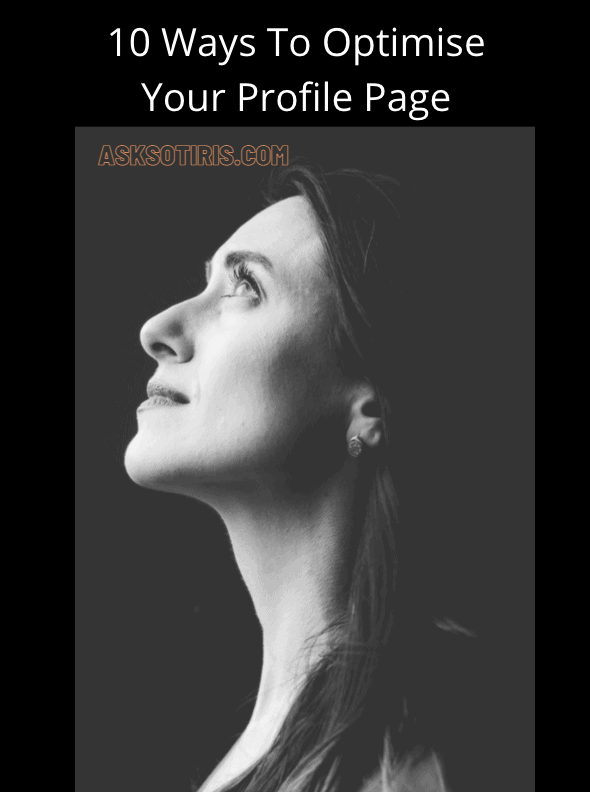 Most people who are online searching for information are often looking for a solution to a problem so the easiest way to find your ideal client is to offer on your page multiple ways to help them to answer their questions.
Or better still give them options that could solve their problems.
The more you know about your specific target market the easier it is to talk to them.
If most of your clients are aged 30 to 40 and are female smokers who want to quit then you need to create content and videos for them specifically.
Your content should speak to them in a way that they can understand more about the solutions you are able to provide for them.
Below we go any further I want to elaborate on some ways that you could actually optimise your profile to get better results.
Provide some key information that your clients should know and explain to them some of the benefits they will get if they continue to the next step.

Let your clients know why you are qualified to help them to solve their problems or to help them find solutions.

Provide some video testimonials from clients, even if written testimonials are good, anyone can copy and paste them therefore they will never have the same effect as a video testimonial.

Use one social media button like

linktree

with all your useful links and social networks instead of having lots of different follow me on social media buttons all over your profile or blog. 

Provide a real live call to action on your page and your blog posts, not just written text. 

Allow your clients to schedule a call with you using a professional calendar or

booking system

 

Get your readers to click on your social media follow button so that they will see your stuff again on social media, that way they won't end up being a visitor who accidentally stumbled onto your webpage for a one-off visit. 

Check the keywords you are using in your posts and titles, if no one is typing them into Google it will be a whole lot harder for people to find you using SEO (Search Engine Optimisation)

Offer a free consultation even if it is for only 15-30 mins so you and your reader can see if you both would be happy doing business together. 

Use video in your pages nothing sells better than a good video, or video testimonials this is something that should not be overlooked. If you are in any doubt about how you can make a professional video feel free to message me on

Facebook 
To find out more about me and what I do feel free to visit https://www.asksotiris.com/learnmore
(Visited 65 times, 1 visits today)